Retail chains and operators have two choices in managing building systems to healthy standards and recommendations. They can either have adjustments made manually at the store level or use automated building systems. Manual reliance does not allow for peak performance, where the science of the building balances with outside influencers. And manual processes do not allow you to track and capture data for best management and compliance reporting.
PhoenixET provides best-in-class software that monitors and controls assets with minimal additional hardware. We turn stores, offices, classrooms, theaters, and more into smart buildings, by connecting, controlling, managing, and monitoring assets such as HVAC, lighting, refrigeration, industrial, and consumer-facing machines. Our systems alert, measure, and command to automatically correct or predict the need for service.
Monitor and manage with PhoenixET reporting
With employees more readily complaining to HR and OSHA right now over comfort issues, retailers need tools to manage and avoid comfort complaints. PhoenixET provides remote reporting across locations on zone temps, date temp readings, CO2 levels, unit efficiency, and humidity readings where sensors are available.
There are four specific PhoenixET reports we recommend for facility managers to stay on top of comfort while occupants continue to wear safety masks. We recommend our:
Zone Temperature Performance Report - quickly highlights which locations are struggling with efficiency

Comfort Mitigation Program Report - shows control fluctuations between normal and test sites

HVAC Daily Diagnostic - provides a further snapshot of performance per location

Call Tracker Report - lists complaint calls per location


1) Zone Temperature Performance Report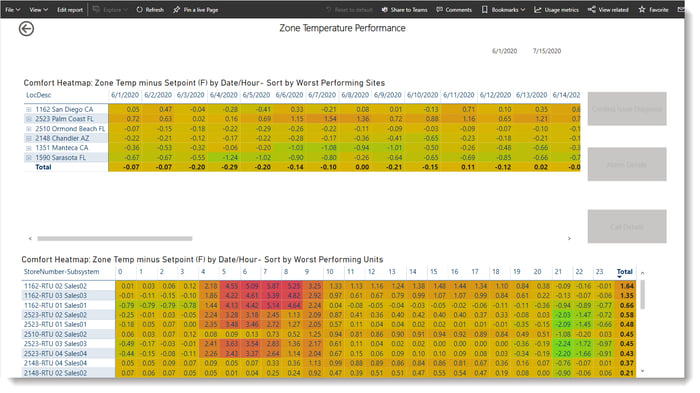 .

This report shows the average hourly zone temp, Delta T, and setpoint for a location throughout the day, showing morning startup, occupied times, and unoccupied times per site.
A large delta variance indicates that a different energy strategy is required. For example, if it takes several hours for units to cool the building after employees first enter, you may need to adjust setpoint to earlier to ensure occupant comfort.

2) Comfort Mitigation Program Report



The Comfort Mitigation Program Report compares data between control sites and test sites to gauge if locations stay cooler during operating hours. This report allows you to demonstrate occupant comfort, which is useful to ensure mask-wearing occupants feel cooler. For retailers who seek to use energy strategies that go beyond blasting the air conditioner during the day, this reporting lets you test energy strategies and tweak as necessary.
This type of reporting also clarifies that the traditional approach to saving energy, which is to lower the occupied temperature, is not always the best strategy. Buildings retain thermal capacity. When building temperatures are adjusted at night as well as during the day, this preserves the cooling efforts made during day hours. Changing temperatures at night when it is cooler takes advantage of a "no heat load". The lower the setpoint is at night, the more potential for economizing during the night hours is present because the night hours are cooler. Under a strategy that takes into account thermal capacity, you shift consumption to an off-peak period.


3) HVAC Daily Diagnostic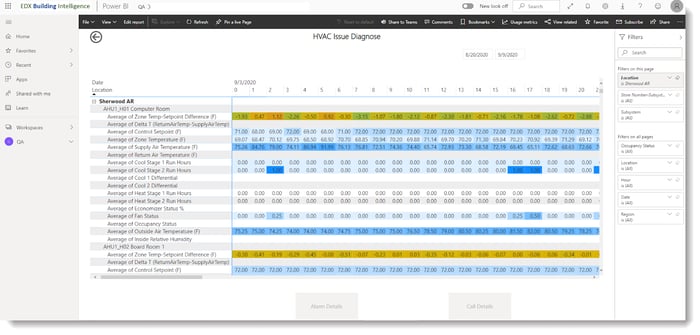 This report is a performance snapshot that shows the correlation between zone temperature against setpoint and the number of runtime hours. The report highlights morning startup recovery times to overnight temperatures, with the zone temp compared to setpoint deviation. This view helps facility managers mitigate deviation by staying on top of equipment, making sure units are operating correctly. Managing equipment efficiency helps preserve comfort.


4) Call Tracker Report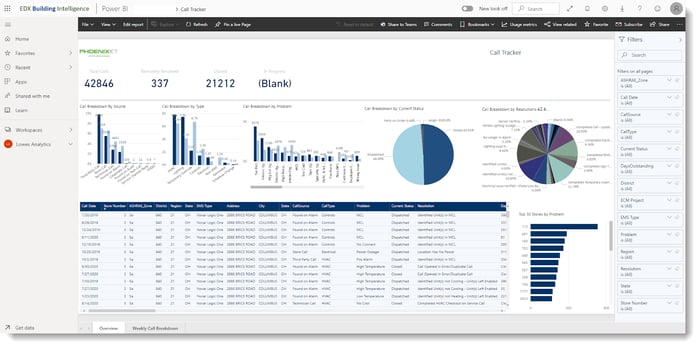 The Call Tracker Report shows the location, type of call, and temperature of the site at call time. This data can be stored for download for years and shows comfort improvements and records location feedback, among other data.





Data's role in HVAC operation
Building automation lets you maintain standards and best practices for running your HVAC systems across your locations. Automation and alerting allows you to stay on top of potential air quality concerns through the monitoring of:

Temperature and humidity levels

Indoor air quality via CO2, VOCs, and volume of fresh air brought in

Pressurization of air ducts and spaces

Air filtration performance and maintenance

How PhoenixET can help
PhoenixET helps building managers assess air conditioning units' condition by checking Delta T, CO2, and temperatures at all locations. We conduct audits through automated building control systems that keep you up to date to answer building occupant questions on air quality.
PhoenixET allows you to:
Organize your stores into groups and prepare strategies by ASHRAE zones or other parameters of your choice.

Develop multi-action strategies - cascading tactics to keep your curtailment on track.

Set strategies at the system OR subsystem level, such as managing 25% of your RTUs every 15 minutes.

Maintain zone temperature - set curtailment activities to cancel if the zone temperature gets too hot or too cold.

View all of today's demand events at a glance.
Please reach out to us to evaluate how we can assist you through managing, monitoring, and reporting on ventilation and air quality across your retail locations.