As a result of Covid-19, State and local requirements as well as personal safety have many retail store associates and customers wearing masks in the store. With the coming of summer, wearing masks has resulted in associates and customers becoming overheated and uncomfortable while working and shopping. Several of our customers requested our assistance to propose a temporary solution to improve the comfort in their stores. Your needs may vary, but below are our recommended considerations.
Phoenix used Building View to isolate the building data we felt relevant to improving the store conditions. The key indicators included:
7-day zone temperatures averages with a focus on Minimum and Maximum temperatures
Hours of active cooling, heating and economizing
7-day outdoor air temps using NOAA weather feeds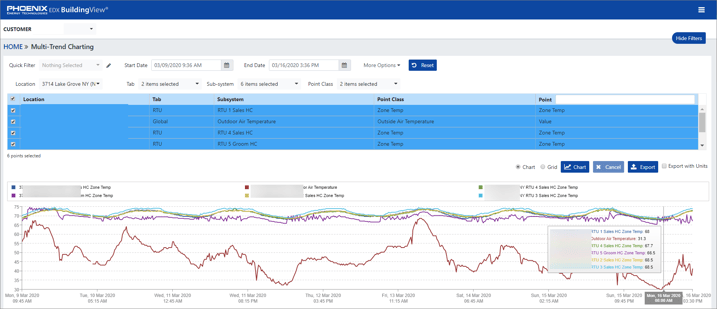 The recommendations we have made as a result of this data included the following.
Adjust your setpoints
Occupied setpoints
Probably the simplest suggestion is to reduce your setpoints by 1-2 degrees. Our data indicated that in some cases, not only was the occupied zone temp too high, the heating units were still on because the heat setpoint was too high. So consider adjusting both your heating setpoints and your cooling setpoints. In the areas where cooler weather is still occuring, you'll save a few dollars on heating, while in areas where it's heating up, you may start up mechanical cooling earlier than usual.
LEARN HOW: Optimizing buildings for COVID to Increase Comfort & Safety
Unoccupied setpoints
Reducing your unoccupied setpoints by 1-2 degrees will result in a cooler store when your associates come in to work. Especially in many locations where stores are having early stocking or high-risk customer hours early in the morning, you'll also get free cool economizing, bringing in 100% outside air and improving indoor air quality.
Pre-cool the building
Set your HVAC schedule to begin several hours prior to opening. Pre-cooling can help your employees and customers feel more comfortable from the start of the day, and may help you save energy by reducing the need for your systems to work as hard during peak hours.
Set fans to continuous mode
Setting your fans to continuous mode will increase air circulation to maintain air quality and make the building feel cooler, even as the store warms up. If you have filters, now is the time to replace them as well. Your employees and customers will appreciate the airflow. You should also open minimum outdoor air dampers, as
high as 100%, to reduce or eliminate air recirculation.
For detailed analysis of the PhoenixET EDX data that we used, and the specific actions taken in the system, download our Covid-19 Store Response Sheet.