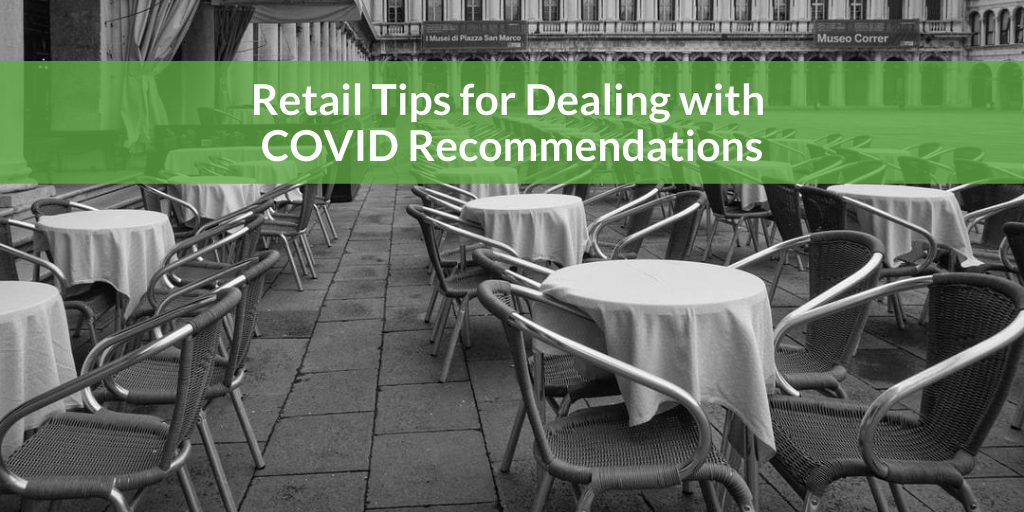 COVID-19 has profoundly impacted retail. With the threat of the virus still present as we head into the last quarter of the year, some stores around the country are opening at reduced capacity. Top of mind for owners and managers are what recommendations to implement to maintain safety and comfort for staff and patrons–with indoor air quality becoming an increasing top priority.
Stringent Cleaning and Distancing Protocols
On top of typical cleaning procedures, retailers are implementing more stringent and repeated cleanings. The CDC recommends procedures to frequently clean seats, door handles, work stations, and sink handles. Other recommended strategies include:
Social distancing at 6'
Mandatory masks for all staff, guest workers, and customers
Plexiglas protection at work stations
Extra measures to reduce cross-contamination at eateries/restaurants where guests will remove masks

Disposable dishes, condiment packets, not bringing refill reciprocals out to guests (bringing new drinks as refills etc.)
Energy Efficiency AND Customer Comfort CAN Coexist


Improved Indoor Air Quality
Of all the strategies to curb the spread, improved indoor air quality is being encouraged by experts as crucially important. Experts suspect that the virus is spread through the air to a certain degree, with contaminated droplets believed to remain airborne in indoor spaces for hours. It is important to note that currently, all enhanced air quality strategies are recommendations and not mandates. But for businesses where customers will linger to shop–or in restaurants where customers remove masks–having fresh air is being viewed as more critical to keep staff and guests as safe as possible.
So, what can retailers do to keep the air safer? The obvious low-cost solutions include upgrading filters and adjusting settings to provide more outdoor air to spaces, the primary guidance from the CDC. Upgrading filters to MERV ratings 11 or 13 from the standard ratings of 6 and 8 filters can help remove more particles carrying the virus. Increasing outside air is also vital.
In most businesses, HVAC systems cool or heat the air, and then a fan blows it into the different spaces in the building. Then ceiling or floor intakes move that air through ducts back to the HVAC system where the filter is almost solely responsible for filtering particles and allergens out of the air. With an outdoor air intake on the system, fresh air from outside is filtered in. Using Building Automation Systems, the dampers on these outdoor air ducts can regulate the amount of air.
LEARN HOW: Optimizing buildings for COVID to Increase Comfort & Safety
Other Technologies
Carbon dioxide sensors can indicate how many people are in a space and regulate the amount of outside air required based on occupancy. These control systems can be programmed to monitor the outdoor air that enters a space to provide enough fresh air for customers while also continuing to condition it to keep them comfortable.
Although it requires significant investment, the CDC indicates that Ultraviolet Germicidal Irradiation (UVGI) can help minimize airborne spread. Many HVAC manufacturers are retrofitting their units to include devices or housings at the outdoor intakes of air conditioning units that include this technology. While the overall effectiveness of UVGI isn't known yet, the technology is there. And in conjunction with other strategies above, this is an extra precaution that may be worth the cost
How to Manage Building Air Quality in a COVID Environment
Triaging Buildings
There is no one foolproof method to eliminate the possibility of spreading the virus in indoor spaces yet. Still, a combination of strategies can go a long way to minimizing it. The virus travels on droplets that must eventually fall or attach to something. For retailers, this makes cleaning surfaces frequently, upgrading filters on air conditioning systems, requiring masks, and ventilating the air as much as experts advise are all excellent ways to curb the spread so customers can relax and get back to enjoying dining out.
How We Can Help
Right now, the ultimate goal is to make sure everyone feels cool enough to wear their PPE and masks consistently, as this reduces risk. PhoenixET can help facility managers develop a setpoint strategy across multiple locations that keeps employees and customers comfortable and safe. We enable you to identify issues remotely and make bulk changes that may be required as buildings reopen. We have industry-perfected ECMs (energy conservation measures) that we implement for our customers that do not require new hardware or equipment.
Reach out to us to see how we can help get you ready for when your buildings reopen.
Additional Resources
Managing Associate and Customer Comfort in Retail's New Normal
Challenges Facing Facility Managers As Social Distancing Is Relaxed And Doors Reopen
How To Get Buildings Ready To Reopen Following COVID Closures