Headline

Case Study: National Grocery Chain Case Study
How Phoenix Energy Technologies was able to gain 4% Energy Reduction with NO Capital Expenditure
> Download Full Case Study Here


Background
A National Grocery Chain needed to immediately reduce their energy expenditure by repurposing their current facility spend. The enterprise-wide energy savings goal for 2016 was 4% over 193 locations.
Traditional efficiency projects, such as LED retrofits, VFD's and high efficiency appliance upgrades require capital investment whereas this client's focus required leveraging existing infrastructure and data sources to capitalize on immediate savings opportunities. After comparing various energy management solution providers, which included a competitive pilot, Phoenix Energy Technologies was awarded the opportunity.
Why PhoenixET Was Selected
An enterprise-wide consultative approach
Expertise in the control systems and business process
Gateway technology that connects to refrigeration control systems
The PhoenixET Solution
PROFILE - Detailed profiles for each location were created to analyze current HVAC schedules including: fan mode as well as cooling and heating set points
IDENTIFY - Third party spaces, such as banks, pharmacies, and liquor stores were running HVAC schedules that far exceeded their operating hours
RE-COMMISSION - HVAC schedules were adjusted to more accurately reflect the actual operating hours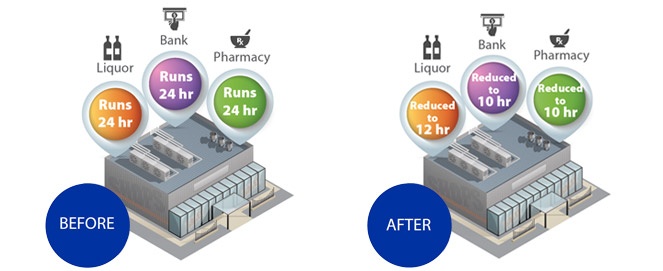 Results
Client gained a full enterprise listing of units & schedules
PhoenixET experts and devoted project team relieved pressure from store managers to deliver energy savings
Delivered projected 2016 savings of $1-1.5M
Next Steps
Phoenix Energy Technologies will deploy our Enterprise Energy Management software (EDX) for HVAC, Lighting and Refrigeration alarm management in Q4, 2016. Project scope will include EMS monitoring, 24/7/365 technical support plus dispatch and repair verification. Expected results include; additional energy savings, reduced maintenance costs through proactive asset management, and improved support to the vendor network.
* Program savings can reach an estimated 6-8% with a controlled compliance program affecting store override procedures.