What Facility Managers Need To Know About Smart Buildings
by Phoenix Energy Technologies on Jul 22, 2019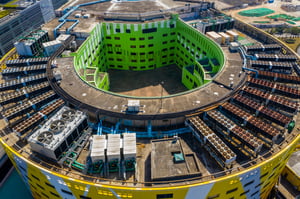 Smart buildings are transforming facility management by providing the information and tools to make more intelligent and efficient decisions about how to manage buildings.

Facility managers who have not yet invested in smart building technology may soon find themselves missing out on significant and widespread financial and energy savings as well as falling behind best practices for resource management compared to competitors who have made the investment into smart building technologies.
To better understand just what is at stake when making the choice to invest in smart building technology, this post will take a closer look at the areas in which smart buildings provide a cost-saving and competitive edge to facility managers.
Smart Buildings Save Energy
Perhaps the most obvious and familiar benefit of smart buildings is their energy efficiency. Smart buildings can cut energy use by nearly a fifth. Increasingly, both newly constructed and retrofitted smart buildings aim to reduce carbon emissions and overall energy use in order to demonstrate a commitment to environmentally-friendly practices and reduced costs for users.
Where do those savings come from? There are a range of possible improvements that benefit many different kinds of facilities:
Increased telecommuting via improved audio/visual equipment
Lighting controls that help reduce wasted energy for unused spaces
Window shading that adjusts automatically
Smart technologies for HVAC control
The costs savings can be truly remarkable. When the Shedd Aquarium in Chicago committed to reducing energy output, they integrated smart technologies into their lighting, water management, wildlife support, and HVAC systems. Coupled with their introduction of rooftop solar panels, the facility saw a savings of more than $8,000 in the first two months of operation.
Smart Buildings Improve Maintenance
One of the most costly occurrences in many facilities is an emergency maintenance event. The cost can be especially high if the maintenance event causes production or business to halt until it is completed. Facilities that depend on functioning systems to maintain products can also suffer a substantial loss when those systems fail. Smart building technology offers opportunities for improved maintenance including performing routine maintenance tasks and using sensors to provide warnings in time to intervene before a maintenance emergency arises.
Many facilities continue to run in the mode of reactive maintenance, making them vulnerable to decreased productivity and increased costs. Using smart building technologies to switch to preventative and predictive maintenance models has a host of benefits. Maintenance can be scheduled in advance and performed when it is least disruptive, major—often costly—malfunctions can be avoided, and the life of expensive equipment can be expanded.
Smart Technology Makes Managers Smarter
A lot of facilities management is guesswork. Managers have to guess at how and how often a space will be utilized, and the changing needs of a facility or change in building tenants can disrupt once-predictable trends. Trial and error can be costly and time-consuming. Smart building technology provides real-time information in ways that simple human observation cannot reach.
Sensors can monitor how and when spaces are used. This allows facility managers to identify spaces that are overused and underused, allowing for planning and renovation without the guesswork. Sensors can also communicate when a space is in need of cleaning, allowing for a janitorial schedule that is the most efficient and responsive.
These kinds of technological advancements are particularly advantageous for managers of facilities with multiple tenants or users who are plugged into a high-tech industry that is likely to require flexible use arrangements. Smart technology can also connect buildings to one another, giving managers who operate in multiple sites the ability to get a bird's eye view of their operations and make informed and efficient global operations decisions.
Smart Buildings Make Financial Sense
Ultimately, the benefits of smart buildings all add up to one underlying concept: investing in smart buildings makes financial sense. Each of the benefits listed above has both direct and indirect impacts on the bottom line. While the direct financial benefits of smart buildings will depend on what investments are made and the size of the facility in question, there are many financial incentives to consider.
A World Green Building Council study found that enhanced ventilation and indoor air quality could improve worker productivity by 11%. Enhanced lighting gave an even bigger productivity boost (23%). One architectural design firm saw a 25% reduction in lighting output by investing in a central control system. Meanwhile, predictive maintenance is expected to reduce costs by 12% and increase up-time by 9%.
The financial benefits of investing in smart buildings are multifaceted and complex, promising to deliver ROI both in the near- and long-term.
Now is the time to invest in these smart technologies that are transforming facilities management.

For more information on smart buildings, please download our free white paper A Roadmap to Smart Buildings.
Posts in this series
Top 3 Benefits of Benchmarking for Facilities Management
What Facility Managers Need To Know About Smart Buildings
Are You Managing Your Energy Spend?
4 Common Myths of Energy Conservation in Building Management
Precision Building Management: Understanding Closed Loop Control