Proactive Analytics
Turning Data into Currency

Identifying Savings Opportunities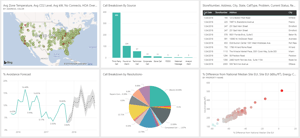 Proactive Analytics is a team of professionals at Phoenix Energy Technologies that identifies savings opportunities at the equipment level and when appropriate sends control signals to individual stores. Using fault detection practices and EnterpriseDX®data, the Phoenix Energy team identifies outliers and issues at the building level before the store even knows there is a problem. This centralized monitoring team combined with EnterpriseDX® is the only cost effective way to drive the incremental energy savings that you require.
The Proactive Analytics team are skilled building control experts who constantly monitor and fine-tune EnterpriseDX® and your facilities operations. Services include determining locations with highest and lowest energy usage, identifying ongoing equipment or setting problems, and calculating the ROI and savings for capital projects, demand response events, and behavior changes.
This capability is an extension of your facilities and energy management team that identifies energy savings and equipment problems and ensures measured and verified savings for operational changes.