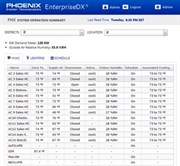 PhoenixET, recently released a web-accessible building system operation summary site named BuildingView, that gives clients unprecedented access, convenience, and control over their enterprise's operations.
Built as a complement to PhoenixET's industry-leading EnterpriseDX Enterprise Energy Management software, BuildingView offers users simple access to timely data polled from each site's Building Control System (BCS) in a straightforward format on the leading platforms.
What started as an off-the-record side project generated so much interest that one Fortune 100 national retailer jumped at the chance to offer input on its development into a money and time-saving toolkit. This client saw great value in making building data available to its maintenance technicians in such an extremely readable format.
The goal the two companies outlined was to create a site to obtain critical data so that a technician, district manager, or regional director could go on their tablet or remote laptop and gather critical information at any store before calling. After productive stakeholder meetings with the client's corporate energy team, getting to know their pain points, and adding it to seven months of expertise gained during the pilot program, PhoenixET built a custom page to respond to the customer's suggestions.
PhoenixET's Fortune 100 retail client has already deployed the toolkit at over 800 sites averaging 80,000 ft2 that also have up to 500 data points being polled several times per hour at each location. Preliminary feedback from the client has been overwhelmingly positive, and the enthusiasm for the value of the new product has trickled through several levels of the organization, from receiving dock to Corporate Facilities. It saves money. It saves time. It gives much needed transparency to stakeholders.
"We're always looking to realize benefits for our customers and their customers. In this case, we found a simple way to help their field staff get real-time building information faster and reduce call volumes for our EMS Services team," states Alex Natelli, Director, Product Management.
These two partners look forward to the continued refinement of the BuildingView page in several more team meetings over their multi-year agreement. PhoenixET is thankful for all of its clients for the collaborative partnerships it is engaged in and is happy to support a culture of innovation and action to add value in many new ways.
About Phoenix Energy Technologies
Phoenix Energy Technologies is a strategic partner and leading provider of Enterprise Energy Management software and services in the retail sector. With a proven process to enable greater visibility, produce actionable information, and achieve optimized building performance, PhoenixET provides a 360° solution to reduce energy consumption and costs. For more information, visit www.phoenixet.com.