Upcoming Events

Virtual Events
February 15, 2022 Webinar: How PetSmart Reduces Costs with Energy Demand Management

---
January 25, 2022 Webinar: Solving Demand Management Challenges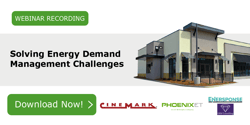 ---
Meet us at the Next Events

National Key Accounts Workshop
EEI's semi-annual National Key Accounts Workshop is the venue where national, chain, and multi-site energy users can tackle all of their energy-related needs. Customers will learn about the latest public policies affecting the energy industry, meet with their utility account and energy supply representatives, and learn about new technologies, products, and services designed to save them money. Click here to learn more.
---

Connex is the leading membership association that empowers Retail Facilities Professionals to make informed business decisions by delivering best practices, education, forums, partnerships and other relevant industry resources.
Connex's Mid-Year Conference is designed to offer a connected educational and networking forum for multi-unit retail facilities management professionals. FM professionals attending the conference come with varied experience and expertise, but also bring similar challenges and goals. Click here to learn more.