Total Productive Maintenance
Total Productive Maintenance (TPM) emphasizes maintaining and improving critical assets and operational processes. Depending on the need, the maintenance team may utilize one or a mix of three types of preventive maintenance programs that fit within TPM. Those are:
Periodic Maintenance

Predictive Maintenance

Prescriptive Maintenance
Connecting to IoT and Industry 4.0
Each of the preventive maintenance programs has the same set of objectives based on the eight pillars of TPM that cover every facet of manufacturing and service. In turn, the foundational approach to service illustrated by the TPM pillars also connects to an Industry 4.0 approach for integrating the IoT into daily functions.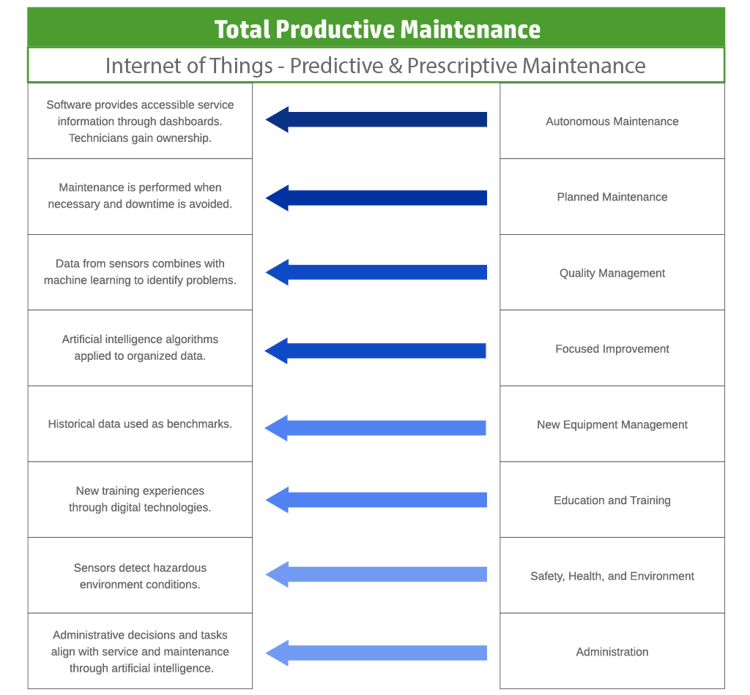 The Internet of Things (IoT) has transformed maintenance for facilities. The IoT connects any device containing on/off switching to the Internet and other connected devices. Within facility and energy management, sensors connect devices, equipment, and systems to the IoT-connected devices that can collect and share usage patterns and observe data from external sources. Within facility and energy management, the alignment between TPM and the IoT facilitates the analysis of the data to find the best time to repair or replace HVAC, lighting, and refrigeration systems.
This foundational Industry 4.0 approach leads to achieving well-maintained systems and lower energy costs. Regular maintenance keeps repair costs to a minimum and allows facilities and their customers to avoid serious problems that lead to extended downtime. Because quality maintenance extends the operating life of equipment, maintenance programs also serve as part of the investment in equipment and systems.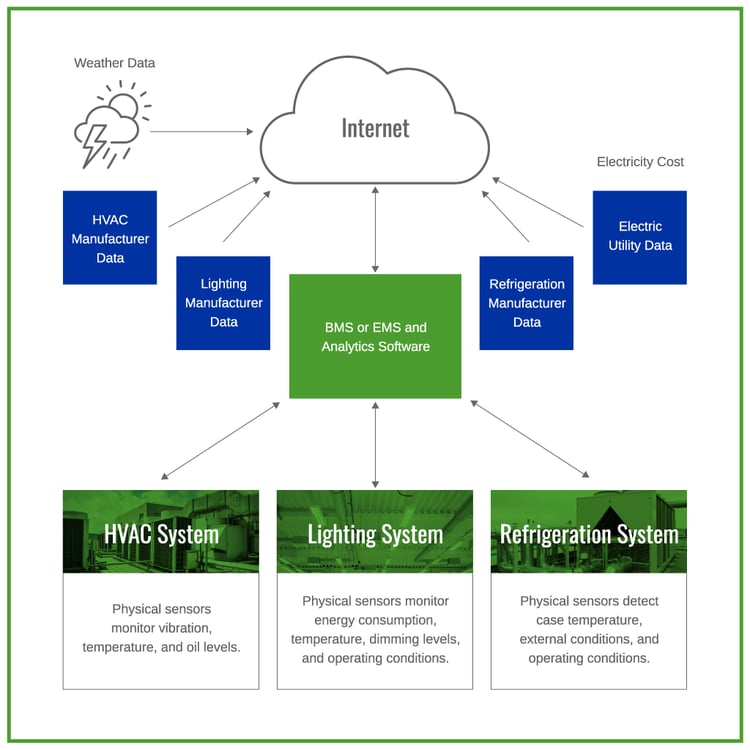 Building Management Systems/Energy Management Systems
While a Building Management System (BMS) or Energy Management System (EMS) serves as an intelligent system that monitors and manages core equipment and components, connecting the system to the IoT adds capability. The BMS or EMS can serve as an IoT platform that shows useful information derived from the connected devices, equipment, or systems. The flexibility of a BMS or an EMS matches with the analysis given by predictive maintenance.
Static Data, Updated Data, and Real-time Data
TPM combined with the IoT utilizes static data, updated data, and real-time data. While static data covers manufacturer, model number, configuration, and capacity, updated data includes:
Equipment age

Equipment start time

Number of users

Load

Type of processor used
Another set of updated data lists the breakdown history for equipment, replaced components, the data of replacement, and any additional service history information.
Real-time data comes from sensors physically attached to critical equipment and IoT-connected devices that monitor instruments and systems. The sensors and devices capture changes in voltage, pressure, temperature, vibration, load, noise, and lubricant levels.
From there, aggregated data flows over secure communication systems to a central data warehouse for storage, processing, and analysis. IoT software monitors normal and abnormal patterns, detects possible problems, and offers recommendations.

Data Analysis
The analytics tools include algorithms and artificial intelligence to forecast possible outcomes. Data analysis software uses accumulated data about machine performance gained from daily operations and from manufacturers to create a model of normal operating behavior. Facility and energy managers can work with maintenance supervisors to monitor software dashboards to show load patterns, indicate the probability of an asset failure, and analyze the root causes of problems with control systems, HVAC systems, lighting systems, and refrigeration systems.
Predictive algorithms compare real-time data with the model and look for unexpected changes. For example, a slight voltage variation may disclose a potential problem with a compressor in a specific refrigeration system. Machine learning tools within the data analysis software provide the decision analysis needed to identify the best time for a repair or replacement.
While the system operates, predictive analysis enables maintenance, repair, and replace decisions. Decision tools based on regression analysis find patterns in large data sets and pinpoint factors that influence the operation of a lighting system. If the software detects changes from the predicted normal operation, it issues an early warning about possible failures. Sensors may indicate that the heat rate and output power have surpassed an operating threshold.