Free White Paper
The Evolution of Enterprise Systems and Adaptive Energy Management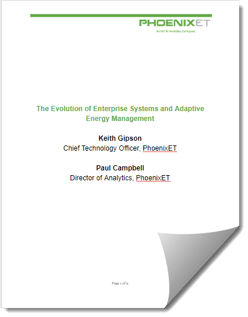 Adaptive Energy Management is a platform seated at the crossroads of necessity and strategic thinking. However, we can never appreciate where we are unless we understand where we came from. Adaptive Energy Management did not just rise from the dust, but rather evolved over decades of technological innovation and application of scientific principles. It is an interesting odyssey that is worthy of attention.
Learn from the expert about:
The timeline of Enterprise Systems
Major milestones systems have had over the years
How Adaptive Energy Management plays a major roll now
About the Authors

Paul Campbell
A highly experienced energy data strategist and founding member of the PhoenixET team focused on enterprise energy decision management, data velocity and applied analytics who has designed suites of analytics that support robust Enterprise Energy Management programs which have delivered significant operational efficiencies and operational cost reductions for clients.

Many of the tactics developed have been adopted as client Standard Operating Procedures for cost control and environmental policy within the framework of our overall EEM strategy. Current endeavors include quantifying cost benefit of data velocity optimization as well as developing fully automated Decision Management systems to handle Fault Detection signal traffic.

In development is a suite of robust programmatic and dynamic methodologies to support demand control software that responds to continually to environmental and climatological conditions seamlessly through machine learning.
Keith Gipson
Keith E. Gipson is the Chief Technology Officer for Phoenix Energy Technologies, bringing 30 years of experience in the retail, commercial and industrial energy management and controls industry as well as leading the development of industry-changing technologies.
Prior to joining the Phoenix leadership team, Keith was CTO and co-founder of IFS, an Enterprise Energy Management and systems integration solutions company. In 1997, Keith co-founded Silicon Energy Corp., the first Enterprise Energy Management company. Silicon Energy was sold to Itron Corp. in 2001 for $71M. Prior to Silicon Energy, Keith was one of the first people hired by PG&E's "start-up" company, Vantus Energy that later became PG&E Energy Services.
Keith has been leading the advancement of technology in the field of Energy Management and is the recipient of many awards. Most recently, Southern California Edison recognized him as a Modern Day African-American Inventor for his contributions to the utility and EEM industries. He holds a U.S. patent as co-inventor of a Web-based EEM system. Keith is always looking forward to the "next big thing."