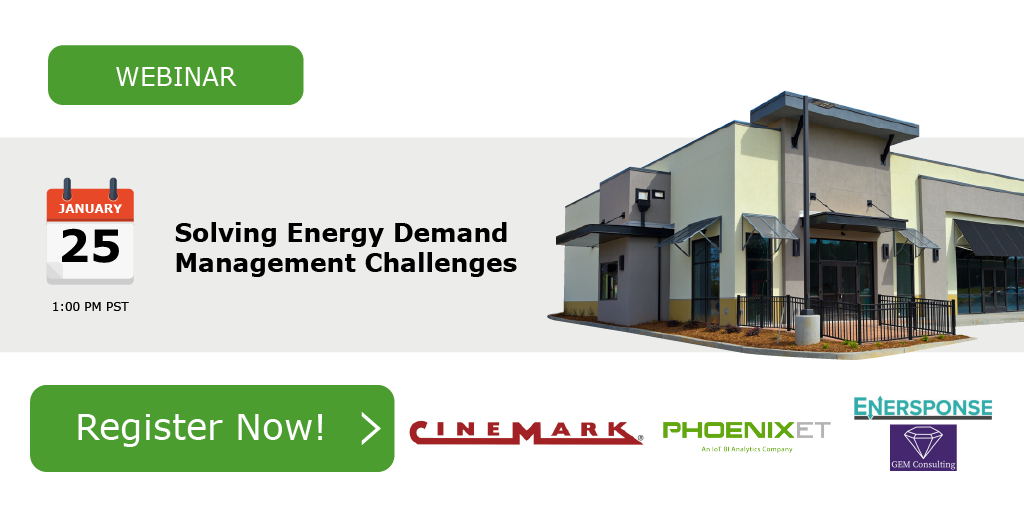 New Webinar! This month we welcome corporate energy experts in an interactive panel to discuss the benefits of demand response programs and how demand management is booming as a hot topic among enterprises with multiple locations. With demand response program deadlines quickly approaching in April and May, do not miss out on asking your pressing energy management questions in our webinar's live Q&A!

Join us Tuesday, January 25th, 1 PM PST in our webinar Solving Energy Demand Management Challenges.
Moderated by our VP of Business & Corporate Development, Ryan Adelman, you will learn from corporate energy consultants GEM Consulting's Colin Greer and Enersponse's James McPhail, as well as Cinemark's VP of Energy & Sustainability, Art Justice.



The webinar will cover multiple viewpoints, including:
What's new in the demand response markets

How multi-location businesses are increasingly taking part in numerous demand response programs

The basic steps in piloting a program and how to start utilizing your existing infrastructure


Plus, Art Justice will share Cinemark's demand journey, highlighting their results throughout 2021 and what they expect in 2022.

Learn from and consult the experts in planning for your energy needs throughout the new year. Register for our webinar today!