This post is part of The Guide to Building Management Technologies.
Introducing the latest enhancements to Building View- one of PhoenixET's most popular software modules.
Used by many of our top customers, including retailers such as Sears and Cinemark Building View brings faster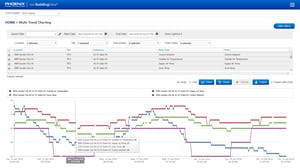 enterprise-wide diagnosis, action, and analysis to their energy, facilities, and sustainability teams. What they like most? The ability to wrangle multiple building control systems into a single, normalized view, so they can compare, and act on, locations around the network, without ever having to touch clunky control interfaces.
The latest features:
Common view of datasets across any location on any control system

makes comparing and analyzing easy!
Access multiple points of building data

such as zone and supply temperatures, sensor status and set points. Quickly dig into any location in your enterprise, and identify conditions, issues and statuses. You can even change setpoints to resolve comfort concerns.
Highlighted problematic readings

in red to help quickly identify issues and increase efficiency when diagnosing problems at the store level.
Charting and historical trending

back up to 36 months, including multi-point trending.

Mobile Accessibility. Access your building's data from any browser, at work, at home, or wherever you are!

Command setpoints. Quickly change setpoints to resolve comfort issues without having to login to any other system.
Ready to learn more? Check out the datasheet.