EEI Fall 2022 Recap!
by Phoenix Energy Technologies on Nov 8, 2022
EEI's Fall workshop was held in Indianapolis, IN with the overall theme of the show being clean energy solutions, and coming together and partnering to meet net zero carbon goals. The event attracted more than 300 new attendees. Learn what speakers and attendees shared in our recap!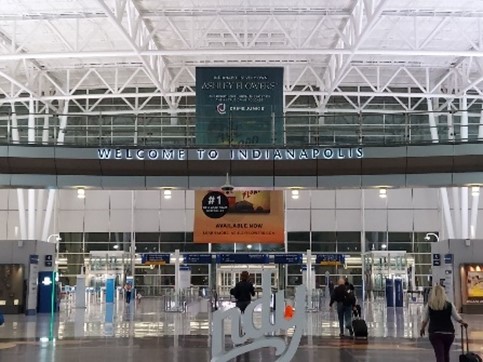 Opening Session – Welcome Address
Kristina Lund, President & CEO, AES Indiana and AES Ohio kicked off EEI with a little-known fact that battery storage was pioneered by AES in Indianapolis. Certain aspects of energy are difficult to decarbonize, so we will need to co-create and solve issues together to meet 2050 Net Zero Goals and answer the questions: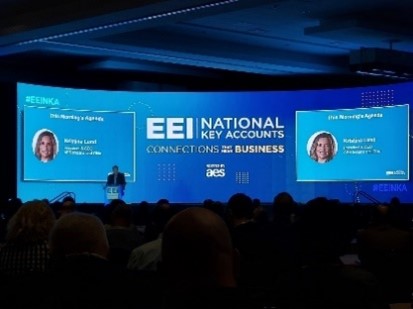 How can we solve this really fast? (to meet Net Zero deadlines)
How can we do this in a stable way?
How can we do this in a way that is fair to everyone?
Kristina implored the audience to use their time at EEI to partner and solve together.
Case studies for business resiliency
Steve Hanson, Sr. Director Fleet Operations, Engineering, and Sustainability of PepsiCo, Tim Langenkamp, VP Business Development & Sustainability, Pilot Company, and Stephanie Armistead, Sustainability, Chick-fil-A all presented case studies of how their companies have, and are in process of, increasing business resiliency.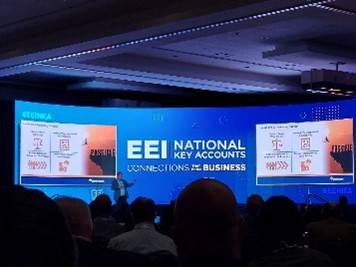 PepsiCo has created a diversified fleet to work with many different suppliers and not be dependent on anyone. They are working responsibly with utilities, so they do not crash the grid, and are safeguarding success by:
Balancing speed with design
Pairing strategic planning with flexibility
Adding resources to engage and be proactive
Deploying future enabling infrastructure
The Pilot Company is partnering with GM and EVGO to launch 350 fast chargers within 500 locations around the US. Their truck stops of the future must: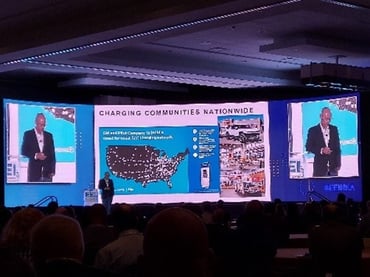 Be profitable
Be reliable
Be decarbonized
Enable coast to coast travel and connect communities
Service light cars, heavy trucks and robots
Keep operations similar to how they operate currently in order to reduce the learning curve for drivers
In order to accomplish this successfully, this must be a transitional, multi-fuel interim period. Challenges to accomplishing the truck stop of the future are not knowing what the preferred drive train choice of drivers will be such as electric, hydrogen, or other in order to plan and provide that infrastructure. In keeping with the EEI theme, Tim ended that the effort of creating truck stops of the future is going to be complicated and expensive, but this is an opportunity for the Pilot Company to work together with partners, utilities and government to solve.
In Stephanie Armistead's presentation, she mentioned that Chic-fil-A's Founder said, "To be a great company, you must be a caring company." Stephanie conveyed that being "administers of care" includes sustainability as well as feeding people.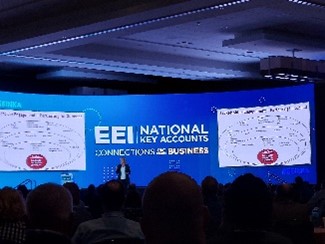 Chic-fil-A is not known as a "first to market" company, but rather "first adopters". So, when they chose their Stockton, CA location to pilot a solar powered microgrid, they needed to create trust with their shareholders. They did this by offering their microgrid partner an office in their location to be accessible to ask and answer questions.
What Chic-fil-A has created at their Stockton store is a safe haven for the community to come to be fed, and a place to charge and work during power outages in their local area, all while providing cost savings to the company, and reducing carbon emissions.
Energy Management Fundamentals and Innovations
David Repp, Innovation Manager, Waffle House, stated that when they sub-metered stores, they found they spent 20% of their energy on their waffle makers that were running 24x7. Before, no one paid attention to the waffle makers because no one knew how much energy they used! David pointed out that every business is different. He likened himself to an octopus with lots of tentacles working with many partners and utilities to solve problems and improve systems.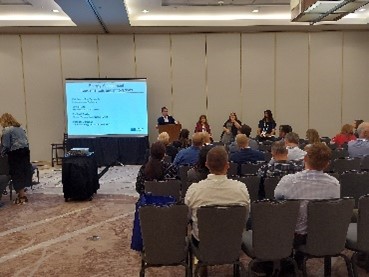 Rachel Ruelas, Manager, Energy & Sustainability, PetSmart had a revelation when COVID-19 hit and things had to be done differently. Before, they would "turn the lights out" at the end of the day in order to increase savings, and drivers would be hot when they came in to unload. When COVID-19 hit, the drivers had to wear masks, which made them even more uncomfortable, and made them more likely to remove their masks. In order to protect their drivers, they turned the air down, only to discover that they spent less, because they weren't chasing set points. There was no negative effect on turning the air down, and everyone was more comfortable. Rachel's point was, "data lets us paint by numbers rather than roller brush the wall".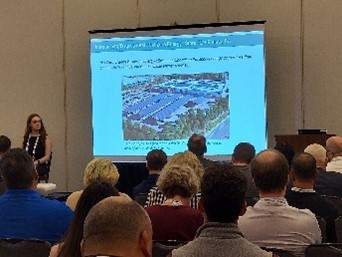 Pursuing Net Zero Projects to Support Climate and Energy Goals
Jake Nicklay, Director, Energy & Sustainability, Target, touched on how Target is pursuing Net Zero goals with their change to LED lighting, adding electric vehicle charging at 65 sites, adding rooftop solar in their parking lots, and changing to native landscaping.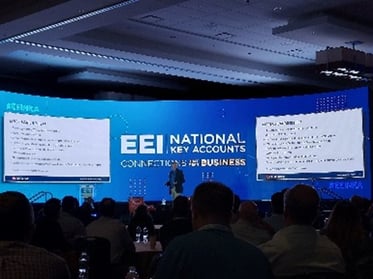 Jordan Calverley, US Sustainability Manager, McDonald's, showcased their Disney World flagship Net Zero store and how they incorporated shade, natural ventilation, a living wall with native plants, low-flow plumbing fixtures, solar panels, solar glass shading and solar lot lights.
A New Era of Clean Energy Customers
Kevin Mathews, Head of Electrification, First Student kicked off the Tuesday morning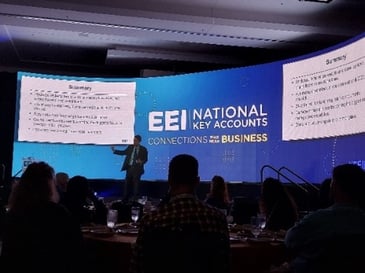 session. First Student is the largest school bus company. Kevin presented that there are over 480,000 school buses in the US, and just over 1% are electric. It will be an expensive endeavor to transition all school buses to electric which will be dependent on grants to fund, and the EPA Clean School Bus Program has allocated $5B to be rolled out over the next four years.
As Kevin was speaking, US Vice President Kamala Harris was in Seattle announcing $965M being released to fund Round 1 of over 10,000 electric school bus requests from over 2,000 school districts. Coordination with utilities will be required and First Student plans to be an example and share their model and what they've learned with other school bus companies to make this a success. Kevin ended his presenting by reminding us that their company's motto is "Safety is important". Their cargo is your children, and they plan to expand that safety to the air that they breathe.
Networking and Social Events
EEI's in-house comedian, and always effervescent, Steve Rosenstock, was a hit of the show as always! Steve updated us on all the new energy code releases in the most entertaining way that only he can do. We appreciate you, Steve, more than you will ever know!
Networking in the Energy Marketplace

Phoenix Energy Technologies partnered with FSG this year for the traditional Monday Night After Party wind down social event!

It was another fantastic event this year! We look forward to connecting with you at EEI Spring National Key Accounts Workshop, March 19-22, 2023, at the Hyatt Regency Miami.