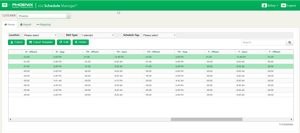 This post is part of The Guide to Building Management Technologies.
Large enterprises, be they retailers, hospital systems, or commercial building operators have to deal with building schedules. The doors have to lock and unlock, the lights come on and off, the air conditioning turns up or down, and much more.
Most facilities managers for these large operations have a few choices. Rely on the "feet on the street", the local facility manager, hammer it out on their building control interface, maybe one at a time, or pay a service provider loads of money to program and maintain the schedules for them - IF they provide plenty of notice. These solutions work pretty well when the schedule doesn't change that much, but what happens during holidays, new floor sets, cleaning and maintenance, school closures, etc.?
PhoenixET EDX Schedule Manager brings relief to the challenges of frequent building schedule changes in the enterprise.
First and foremost, Schedule Manager makes it easy to update building equipment schedules across an enterprise, regardless of what control system is used. Just select the location(s) you want to change, and update the schedule. Enjoy unlimited temporary or permanent schedule updates, making holidays or special hours a breeze. Quickly comply with last-minute requests or large batches - without installing additional hardware or doing cumbersome manual programming at each location.
You can even go to the next level, with batch import ability and direct schedule feed integration from your POS, ERP or other enterprise solution to provide maximum flexibility and efficiency. Best of all, you'll get enterprise visibility, analytics and audit reporting capabilities to easily see schedule change trends, optimize and demonstrate compliance with corporate standards.
Already used by top retailers, Schedule Manager is now available to all enterprises!