Energy Management Software

Introducing EnterpriseDX®
Demand Manager
Demand-side activities are a company's best chance to control costs and reduce energy use. Demand Manager provides a significant cost savings and energy decrease by managing demand across many locations and multiple BAS types to meet your energy cost and load objectives without sacrificing customer comfort or installing additional hardware or meters.
Features:
Multi-action strategies that automatically react to kW usage, weather, occupancy, and more
Works across multiple BAS and doesn't require a meter
Automatic calculation of location curtailment potential/capacity
Optional Swarm Logic by Encycle
Learn more about Demand Manager here.
---
Introducing Building View as Part of EnterpriseDX®
Building View Provides More Than Just Visibility
Building View is a tool within the Phoenix Energy Technology Enterprise software platorm. This tool provides users with a standardized, summary view of building control system performance data. Through an intuitive interface, Building View provides detailed current and historical readings from Lighting, HVAC, refrigeration, and other systems. Building View provides real-time visibility within historical reference, enabling accurate decision-making from a high-level enterprise view down to a building level view.
Features:
Standardized dataset across all BAS types
36 months of historical data, cloud accessible from any web enabled device
Polled at 15 minutes intervals with 1 minute fast pull capability
Learn more about Building View
here.
---
EnterpriseDX® Energy Management Software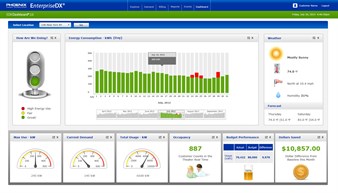 EnterpriseDX® is a software-based monitoring platform that is the core of our energy management solution. Deployed by many multi-site retailers, EnterpriseDX® Energy Management Software aggregates tens of thousands of interval data points for energy consumption and cost, bringing clarity to your energy picture. The system enables pre-cooling in anticipation of an unseasonably warm day, monitors occupancy levels in rooms and adjusts set points, and provides many other energy conservation options.
Unlike many energy management solutions on the market today, EnterpriseDX® is more than an energy monitoring tool, it's also a control program. With customer approval and within agreed-to parameters, EnterpriseDX® can automatically maintain store comfort levels by sending remote control signals to local stores to adjust temperatures and lighting levels. The ability to remotely control your assets through a complete building energy management system improves energy efficiency and significantly strengthens the business case for investment.
EnterpriseDX® integrates securely with your existing BMS equipment and requires no new hardware or equipment. This approach lowers implementation costs, increases payback, and speeds national deployment, making EnterpriseDX® one of the most financially attractive energy management systems available.
EnterpriseDX® also supports the execution and validation of demand response or load shedding events for participating stores.