Free White Paper
Virtual Closed Loop Control for Adaptive Energy Management in Retail Buildings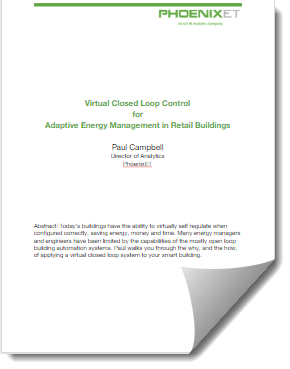 Today's buildings have the ability to virtually self regulate when configured correctly, saving energy, money and time. Many energy managers and engineers have been limited by the capabilities of the mostly open loop building automation systems. Paul walks you through the why, and the how, of applying a virtual closed loop system to your smart building.
Learn from the expert about:
The differences between Open Loop and Virtual Closed Loop control and the Negative Feedback Loop
The First Steps Toward Adaptive Energy Management
Reverting the roles: Zone Temperature as control input and Set Point as Control Output
The Practice of Adaptive Energy Management
Building as a Battery
About the Author

Paul Campbell
A highly experienced energy data strategist and founding member of the PhoenixET team focused on enterprise energy decision management, data velocity and applied analytics who has designed suites of analytics that support robust Enterprise Energy Management programs which have delivered significant operational efficiencies and operational cost reductions for clients.

Many of the tactics developed have been adopted as client Standard Operating Procedures for cost control and environmental policy within the framework of our overall EEM strategy. Current endeavors include quantifying cost benefit of data velocity optimization as well as developing fully automated Decision Management systems to handle Fault Detection signal traffic.

In development is a suite of robust programmatic and dynamic methodologies to support demand control software that responds to continually to environmental and climatological conditions seamlessly through machine learning.