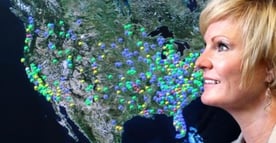 "The brain behind smart buildings: Lisa Varga helps run facilities more efficiently," by the Orange County Register.
"During his inauguration speech Jan. 5, Gov. Jerry Brown called on the state to double the efficiency of existing buildings in the next 15 years. Lisa Varga, CEO of Phoenix Energy Technologies, has been working toward that goal for the past decade.
"The company's software, EnterpriseDX, monitors and manages energy usage and efficiency for multinational retailers, theaters, universities and offices. Through software gateways installed behind a client's firewall, EnterpriseDX adjusts building electricity and energy usage based on occupancy, weather, equipment problems, heating, ventilation and air conditioning set points, and controls and other building data."
- Jenna L. Jones, OC Register, Staff Writer
To read the full article please visit: http://www.ocregister.com/articles/varga-648974-energy-phoenixet.html